Cheese scones recipe
"Quick to make comfort food, enjoy warm cheese scones in less than 30 minutes from start, to eat"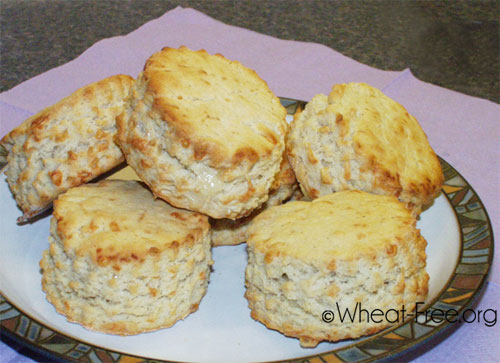 Allergy Information
| | |
| --- | --- |
| Wheat-Free | |
| Gluten-Free | |
| Nut-Free | |
| Dairy-Free | |
| Sugar-Free | |
| Vegetarian | |
| Vegan | |
Preparation time:

10 mins

Cook time:

12 mins

Total time:

22 mins

Yield:

makes 12-14
What can be nicer than a warm cheese scone (aka cheese biscuit), with melting butter dripping off it and a nice hot drink for relaxation time. We like ours with a thick layer of apricot jam. Never tried cheese and apricot jam together? You really should, it's a taste sensation.
This cheese scone recipe is superquick to make,approx. 10 minutes, and they bake in only 12 minutes. They're great for bagged lunches, picnics, breakfast, afternoon tea, you can even put mini burgers in them.
Ingredients (Measures: Metric | US)
400 g
[

2 + 2⁄3 cups

]
brown rice flour
80 g
[

1⁄2 cup

]
potato starch
150 g
[

2⁄3 cup

]
butter, low fat spread or margarine
2 tbsp
[

2 tbsp

]
baking powder (2 tbsp may seem like a lot but they need it)
100 g
[

3⁄4 cup

]
cheddar, grated
100ml
[

1⁄3 cup + 1 tbsp

]
milk (substitute: non-dairy alternative)
4 tbsp
[

1⁄4 cup

]
low fat natural yogurt
2 large
[

2 large

]
eggs, beaten
2 tsp
[

2 tsp

]
dijon mustard (check for wheat/gluten free)
cayenne pepper (optional)
Directions
Preheat oven: 220°C, 425°F, Gas 7
Line a baking tray with non-stick baking paper.
Put the flours, fat, baking powder, xanthan gum and salt into a bowl and mix until it resembles fine breadcrumbs. Then add the grated cheese and mix.
In a separate bowl mix the milk, yogurt, beaten eggs and mustard together then add to the dry ingredients.
Cut the mixture together using a palette knife or any wide bladed knife, then finish off by compressing together with your hands. If the dough appears too dry then add a little more milk to moisten it. The finished dough should be soft but not sticky.
Tip the scone dough onto a lightly rice floured surface, knead it gently until it is fairly smooth, then roll it out to 2.5cm-3cm (1-1¼") thick. The secret of well risen scones is to start off with a thickness no less than 2.5cm (1") thick.
Cut out the scones using a cutter approximately 5cm (2") diameter. Place each one on the baking tray.
The trimmings can be compressed together to make the final scone, just make sure that it's the same thickness as the other scones, even if it's not the same diameter.
Brush the scone tops lightly with a little milk (or egg wash if preferred), sprinkle with cayenne pepper if using, then bake in the oven for 12 minutes until risen further and golden brown. Remove from the oven and cool on a wire cooling rack.
These scones are amazingly tasty straight from the oven while still hot, but also just as good cold. Without the addition of the xanthan gum they would be very crumbly, so don't forget to add it.
These scones are best eaten within 48 hours of making, keep them in an airtight box in the fridge to maintain freshness. They also freeze very well in an airtight box lined with waxed paper or parchment paper.