Ginger pudding recipe
"Ideal warming dessert for cold winter days served with hot custard"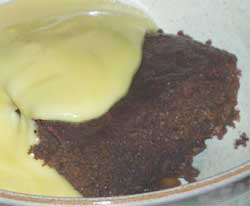 Allergy Information
| | |
| --- | --- |
| Wheat-Free | |
| Gluten-Free | |
| Nut-Free | |
| Dairy-Free | |
| Sugar-Free | |
| Vegetarian | |
| Vegan | |
Nothing warms a miserable, cold day like a hot, comforting pudding. Serve this ginger pudding with hot custard and it will make the winter blues go away.
Molasses is considered gluten free, however check the packaging to make sure there are no other ingredients or allergy awareness messages.
Ingredients
50g
[

50g

]
gram (aka chick pea, substitute: garbanzo) flour
2 tsp
[

2 tsp

]
ground ginger
1 tsp
[

1 tsp

]
baking powder
25g
[

25g

]
low-fat spread, margarine or butter
4 tbsp
[

4 tbsp

]
molasses (or for slightly less molasses flavour use 3 tbsp molasses and 1 tbsp rice syrup)
2 tbsp
[

2 tbsp

]
orange juice
75g
[

75g

]
crystallised or glacé ginger, finely chopped
Directions
preheat oven: 180°C, 350°F, Gas 4
Grease a small ovenproof dish.
Put the low-fat spread and molasses into a small bowl and beat together.
Add egg yolks and orange juice, mix well.
In a large mixing bowl mix the gram flour, ginger and baking powder. Add the molasses mixture and mix thoroughly, making sure there are no lumps.
Stir in the finely chopped ginger.
Whisk the eggs whites until they are stiff, then carefully fold into the mixture, pour into the ovenproof dish.
Stand the dish into a roasting pan with deep sides, and pour boiling water into the pan until it comes 2.5cm up the side of the pudding dish.
Bake in the centre of the oven for 45 minutes, at the end of the cooking time the pudding should be firm in the centre. Remove from the oven and leave in the dish for 5 - 10 minutes before turning out to serve.
This ginger pudding has a rich molasses flavour, with the pieces of ginger providing a warm, zingy taste in each mouthful. Serve hot or cold, with custard, cream or ice cream. This is real winter comfort food.