Trufree Custard Creams
Added on 11 Jul, 2006

.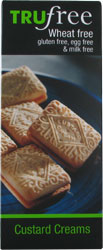 There are a lot of wheat & gluten free biscuits on the market, but manufacturers in most cases rather than try to recreate a wheat containing favourite make a new type of biscuit, or fail dismally when they do try to recreate a version of an old favourite. With this in mind we approached these custard creams with trepidation, not wanting to find a biscuit disaster.
On removing the biscuits from the box our first comment was "is that all there is?", just 9 custard creams were rattling around in a box far too large for its contents.
But on the plus side they looked like custard creams, and the certainly smelt like custard creams, they made our tastebuds tingle just smelling them.
The taste test was eagerly anticipated. Biting into the biscuits was enjoyable with the biscuit having a crunchy texture, then the bonus of the soft creamy filling. It was just like eating one of the wheat containing custard creams that we could remember eating before diagnosis.
The taste was also very good, again just like we remembered. There was no funny aftertaste like with some wheat or gluten free biscuits, or that strange dry mouthed feeling after eating one that again is sometimes experienced.
Everyone awarded top marks for the smell, taste and texture, and the box was all too soon empty.
Overall we thought that these custard creams were excellent, the only reason we took off half a star is because of the ridiculous price for just 9 small biscuits.
Our testing panel is made up of people with wheat allergies and also people who can eat wheat as part of their normal diet.
nutritional information:
Typical values per biscuit (12g):
Energy - 60 kcal
Protein - 0.4g
Carbohydrate (total) - 8.4g
Carbohydrate (sugars) - 4.3g
Fat (total) - 2.8g
Fat (saturates) - 1g
Fibre - 0.1g
Sodium - 0.02g
allergy advice:
Gluten, egg & milk free
Vegetarian, vegan
allergy alert:
Contains soya, made in a factory that uses nut ingredients