Sainsbury's
Added on 02 May, 2004

.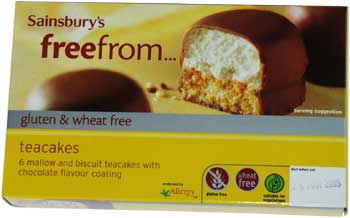 The wheat free kitchen did not have to do any preparation other than open the box and tuck in.
Initial reaction on opening was "these look good", they also smelt nice and mallowy. Biting into the first one was a surprise as the biscuit base completely disintegrated when the chocolate coating holding it together was broken. This happened on all six, leading us to conclude that the biscuit was too dry and crumbly.
The mallow was tasty and sticky, just like it should be, however remembering back to original teacakes a light smear of jam would have been nice between the mallow and the biscuit base. The chocolate flavour coating was okay, but could have been better quality and a tiny bit thicker.
Overall the wheat free kitchen liked them, and the box was soon empty, but the poor biscuit base, most of which ended up on the floor and our testers clothing, and the quality of the chocolate flavour coating, we think needs attention to make these a real knockout.
At 114 calories & 3.5g saturated fat per teacake they make a nice treat, although the saturated fat is a bit on the high side for anyone watching their weight.
Our testing panel is made up of people with wheat allergies and also people who can eat wheat as part of their normal diet.