Sainsbury's wheat & gluten free pot au chocolat
Added on 08 Feb, 2005

.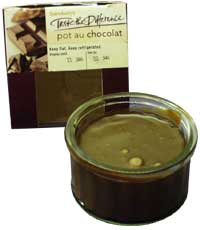 We approached this taste review with some excitement as here at the wheat-free.org kitchen we do seem to have a high proportion of chocoholics. What we wanted was to find a ready made wheat & gluten free chocolate dessert for Valentine's Day or a special dinner, that was both tasty, reasonably priced and sexy. Read on for what we found.
The dessert was located in the chiller cabinet. Instead of the usual plastic pot it actually comes in a glass ramekin which we thought was a nice touch, so it can be served straight from the box and look good on any dinner table.
The look of the pot au chocolat was pleasing, it looked chocolatey but we couldn't tell from looking whether it was mousse like or more solid in texture. The smell was good with a rich chocolate smell.
The first spoonful was a real pleasure, the texture of the pot au chocolat was thick, rich and creamy, exactly what we had hoped for. It had a firm texture in the mouth which meant that it needed to be chewed, rather than the melting effect of a mousse. We thought this was just right, and the texture complimented the taste perfectly.
Our testers thought that one pot was really all that one person could eat at a time as it was so rich, but of course it could also be shared between two, with one spoon of course, for that romantic sharing feeling.
Overall the wheat-free.org kitchen liked this, we couldn't fault it at all, and thoroughly recommend it for a special occasion.
Our testing panel is made up of people with wheat allergies and also people who can eat wheat as part of their normal diet.
nutritional information:
Typical values per 100g of product:
Energy - 403 kcal
Protein - 4.9g
Carbohydrate (total) - 29.4g
Carbohydrate (sugars) - 24.8g
Carbohydrate (starch) - 4.6g
Fat (total) - 29.5g
Fat (saturated) - 24.7g
Fat (mono-unsaturated) - 2.2g
Fat (polyunsaturated) - 1.0g
Fibre - 2.0g
Salt - 0.1g
Sodium - <0.1g
Typical values per pot:
Calories 403
Fat 29.5g
allergy advice:
Gluten free
Contains: egg, milk & soya
Not suitable for nut allergy sufferers