Dietary Specials wheat free and gluten free pizza
Added on 04 Nov, 2004

.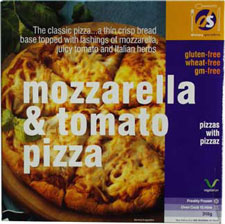 How much did we enjoy doing this product review? A LOT!!!
How happy were we after completing this product review? ECSTATIC!!!
Do we like their pizza? YES YES YES!!!
Now the review results. The wheat free/gluten free pizzas come in the following flavours:
Ham & Pineapple
Mixed Vegetable
Mozzarella & Tomato
We cooked a Mozzarella & Tomato pizza from frozen to the manufacturers instructions. We found that we needed to give it a couple of minutes extra however as the centre wasn't quite bubbling hot.
Our testers were all queuing up well before the cooking time was completed, and the smell emanating from the oven may have been part of the reason. It smelt very appetising and when it came out of the oven it looked extremely good, and in fact we liked the look of it more than many of the traditional pizzas that our wheat eating testers have tried.
Sizewise the pizza was smaller than the box it was in would lead you to believe it was, however not alarmingly so, so we didn't think that it was an issue to lose points over. The cooked pizza was crisp and had a satisfying thickness and rigidity about it, rather than like some of the floppy very thin crust pizzas on the market. The cheese was fairly well distributed and generous, and there was not too much bare crust.
The taste test was the quietest our testers had been all day, you couldn't hear a sound, apart from crunching and chewing. The tomato sauce was sharp enough to bite into the cheese and make a great combination of tastes. The pizza base had a lovely 'pizza base' taste, and it took our wheat free testers back to when they could enjoy pizza. Our wheat eating testers were also very keen on the taste, and some preferred it to normal wheat pizza.
Comments from our testers:
"ummmmmmmmmm.....is there any more?"
"when are we testing the next one?"
"lovely"
"delicious"
"this pizza is fantastic"
"who ate the last bit?"
Overall we couldn't fault the pizza tested and we certainly recommend it.
Our testing panel is made up of people with wheat allergies and also people who can eat wheat as part of their normal diet.