Helen Browning's 12 speedy organic pork sausages
Added on 29 Nov, 2003

.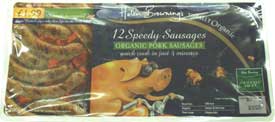 The wheat free kitchen carefully followed the cooking instructions for frying, ensuring that we did not deviate from the instructions provided on the packet.
Our initial reaction to seeing these sausages on the shelf in the supermarket was, "oh how dinky", and then "yum, bangers and mash".
The sausages are organic (except for some minor ingredients), wheat, gluten and nut free, GM free and most importantly, the pork comes from happy pigs.
During frying the smell was very appetizing and they cooked very quickly. When cooked we simply drained them on a piece of kitchen paper to remove excess fat, then tucked in.
The texture of the sausages was perfect, no complaints from our tasters at all. Both wheat free carnivores and eat wheat carnivores found the sausages to be very tasty, and definitely wanted second helpings.
Comment was made that the price was a bit steep, but the quality could not be argued with.
Overall comment was "Are there any more?"