Musk's gluten free Newmarket sausages
Added on 16 Sep, 2005

.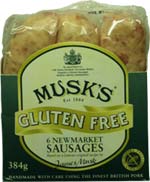 Musk's are the proud holders of a Royal Warrant to supply the British royal family so we were hoping for great things with these sausages.
We chose two different ways of cooking them, in the oven and under the grill. The raw sausages were a generous size and looked as if they were filled with a good quality stuffing. During cooking the smell was good, and certainly made the mouth water. Obviously using two different cooking methods the time taken to cook the sausages did differ slightly, but at the end of the cooking times both sets of sausages looked brown and very tasty, with a delicious aroma.
First we tried a cooked, still hot sausage on its own. The flavour of the sausage was meaty, yet not overpowering, with the blend of seasoning perfectly matched to the filling quantity. We couldn't fault it, and the plate of samples was rapidly cleared.
Then the sausage in a roll test, we sliced a hot sausage and placed it in a wheat free roll with a scraping of butter. Delicious. Just like we remembered when we could eat traditional sausage sandwiches in wheat bread or rolls. The addition of a squeeze of tomato ketchup finished it off perfectly, and there were some very happy, satisfied faces in the testing team.
Finally the cold sausage test. Again they performed magnificently, and would be great to wrap up and pop into a packed lunch box.
These sausages are really versatile and can be eaten either on their own, in a sandwich or roll, or as part of a casserole, they keep their shape, and even when cut up don't fall to pieces like some wheat & gluten free versions on the market. They also have a traditional sausage texture, taste, aroma and look, unlike some of the other gluten free sausages found on sale in the UK that are bright pink, thin and unappetising looking.
Our testing panel is made up of people with wheat allergies and also people who can eat wheat as part of their normal diet.
allergy advice:
Wheat free, gluten free