Minara's Micro Meal - Chicken Biriani with a Korma sauce
Added on 08 Jun, 2005

.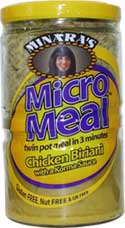 The wheat free kitchen is always on the look out for something that could be eaten as a quick, safe meal for an office lunch, so we were quite keen to give this microwave meal a try.
The wheat free kitchen followed the cooking instructions shown on the back of the packet for microwaving. However at the end of the recommended cooking time the products were not hot enough, so we slightly increased the times until both products were piping hot.
When cooked the korma sauce smelt quite appetising, however the chicken biriani didn't smell very encouraging, but both looked reasonably okay without winning any beauty prizes.
On completion of cooking the chicken biriani, when tipped out of the jar, fluffed up into a very generous portion. Although it didn't appear to have much chicken in it, and the pieces that were present were very small, (the ingredients list only gives the chicken proportion as 10%). We also found a sharp piece of bone in it.
The korma sauce was very runny, although it did have a spicy, very coconutty taste, which we initially liked.
When we poured the korma sauce over the chicken biriani it actually made a very generous meal, more than one person would really want to comfortably eat for lunch, unless having a big appetite. The biriani soaked up the runny korma sauce quite well.
By the time we were half way through the meal the biriani had turned into a very sticky mass, with the rice no longer having a separate grain texture, more like a very sticky risotto. It also started to leave a cloying 'chemical' taste in the mouth after each mouthful. In the end we didn't finish off the meal because of the taste and texture. The ingredients list doesn't have any chemicals on it, so we can only think that the taste is as a result of the initial production process and the natural ingredients used.
Finally, we were horrified to see the nutritional value of the korma sauce. 1016 calories and 79g of fat for the jar of korma sauce is we think completely unacceptable for an individual meal, and exceeds health guidelines for daily fat consumption in just one meal.
Our testing panel is made up of people with wheat allergies and also people who can eat wheat as part of their normal diet.
nutritional information:
Typical values per 220g serving (chicken biriani):
Energy - 202 kcal
Protein - 9.24g
Carbohydrate - 38.06g
Fat - 5.94g
Typical values per 280g serving (korma sauce):
Energy - 1016 kcal
Protein - 12.04g
Carbohydrate - 74.2 g
Fat - 79.24g
allergy advice:
Gluten free
Nut free
GM free