Kinnikinnick Montanas Chocolate Chip Cookies
Added on 04 Oct, 2005

.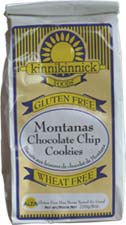 The wheat-free.org kitchen is particularly partial to anything containing chocolate, so we were quite keen to review these cookies. We also liked the packaging because it looks just like a bag stuffed full of cookies, simple packaging hinting at delights inside.
On opening we were pleasantly surprised to see that it held quite a few cookies, which we thought made them better value for money than a lot of the packets of wheat & gluten free cookies on the market.
The cookies were small (but perfectly formed), with a very generous amount of large chocolate chips visible. A little bit fragile, but the small size reduced the tendency to fall to pieces when bitten into, or you could adopt an alternative strategy and put the entire cookie into your mouth in one go (saves making crumbs).
We found the cookie taste a little bland, it appeared that it was just the chocolate chips giving it flavour. It also was quite a dry and powdery texture, which luckily the chocolate chips attenuated as they were quite tasty chocolate.
Overall we did like them, but marked them down on their score because of the dry texture. The major question at the end of the taste test was whether we would buy them again, the majority vote was yes, but with reservations.
Our testing panel is made up of people with wheat allergies and also people who can eat wheat as part of their normal diet.
nutritional information:
Typical values per 2 cookies:
Energy - 70kcal
Protein - 1g
Carbohydrate - 15g
Fat - 5g
allergy advice:
Wheat free, gluten free
Allergy alert: produced in a facility which uses sesame seeds, eggs & tree nuts