Green's Pioneer Lager
Added on 31 May, 2006

.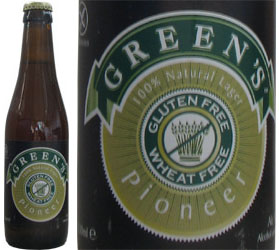 Green's make the following wheat & gluten free beers and lagers:
Pioneer Lager
Explorer Stout
Discovery Beer
Herald Ale
Trailblazer Lager
This review is for Pioneer lager only.
Without doubt the most asked questions we get are "where can I get wheat free beer?" or "who makes it?". So this is our second wheat free alcohol review in a short while to try to address these enquiries.
When we poured the lager a slightly frothy head developed. From a visual point of view it looked like lager and it certainly smelt like lager, which were both major plus points in its favour.
The lager was served slightly chilled for the taste test, and the taste mirrored the lagers that some of us can remember drinking pre wheat allergy. Our tester without a wheat or gluten allergy who drinks normal brew beer or lager also found the taste very acceptable.
The lager contains 5% alcohol by volume, which puts it on a par with other lagers on the market, and a bottle is equivalent to 1.65 units, meaning that anyone intending to drink and drive should certainly curtail their consumption of this lager to avoid going over the legal limit. (We personally would advise that no-one drank any amount of alcohol before driving.)
If you used to enjoy lager before diagnosis then you will certainly be pleased to drink Green's Pioneer lager, and it means that you won't have to miss out when everyone else is knocking back the stubbies and tinnies. The bottle is also aesthetically pleasing enough that you won't feel self-conscious with it on display amongst your drinking companions.
Overall we thought that the lager was quite good and provided a drink with some 'go in it'. However as with the Heron beer we reviewed last December, the price is too steep for a small bottle of lager. And as per our previous comments on Heron, we do know that manufacturers of dietary niche products do have to charge a premium on special products but we think that the premium is too high for the product quantity.
We have also had some feedback from one of our site users, Toby, on Green's beers:
Quote: "Greens wheat free & gluten free beers are just as good tasting as the non-gluten types."
"Discovery is a bitter, Pioneer is lager & Explorer stout."
"Sadly the stout is not like Guinness but is very good with curry, lager is excellent chilled on hot summer's day & Discovery is a good every day beer, like a cask-conditioned bitter."
"They are quite expensive but then they are a special production." End quote.
Our testing panel is made up of people with wheat allergies and also people who can eat wheat as part of their normal diet (and a teetotaler).
nutritional information:
Typical values per 330ml bottle: Alcohol - 5% vol
Alcohol units - 1.65
allergy advice:
Does not contain: gluten, crustaceans, eggs, fish, peanuts, soya beans, milk, lactose, nuts, celery, mustard, sesame seeds, sulphur dioxide, sulphites.
Vegetarian, vegan.