Gordon Ramsay's Just Desserts Chocolates
Added on 19 Jan, 2006

.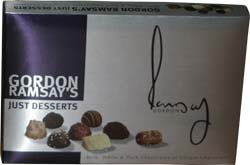 With Valentine's Day rapidly approaching, a review of gluten free chocolates seemed to us a good excuse to tuck into a luxury box of chocolates.
We loved the packaging, it was classy looking and made us want to buy them, despite the fairly hefty price tag of £5.99 per box compared with other boxes of (wheat containing) chocolates on the shelf.
On opening the box we were slightly disappointed to see that there were only 16 chocolates (2 of each flavour). However they were reasonably generous sized chocolates, and they certainly looked very attractive.
The eight flavours in the box were: strawberry bombe, pistachio truffle, salted fudge & honeycomb, orange & cardamom, almond & amaretto, cappuccino brulee, blossom honey and nut cluster. So after deciding who should get first pick (not an easy task, more of a fight really), we dutifully tucked into some serious taste testing.
The chocolates were sensational, each having their own unique texture and taste. The fillings were unconventional, for instance who would think about salting fudge, or putting orange with cardamom. But they all worked really well, and in fact we thought that the salted fudge & honeycomb chocolate was our favourite from the box.
All too soon the box was empty and the review tasting ended, with not a little disappointment from our testers, who could have easily seen off another box. Not one of our testers was disappointed with the chocolates quality or taste, and from our point of view, the fact that they were gluten free meant that they were not really outrageously expensive if you compare them, for example, against Booja Booja gluten free chocolates.
The only problem that we could really point out was that they weren't as readily available in shops as we would like to see, other than that they are really worth spending the money on. Or more to the point, spending the money on as a gift for a wheat or gluten free special friend to show them that you care. (And if you're really lucky they'll share them with you).
Our testing panel is made up of people with wheat allergies and also people who can eat wheat as part of their normal diet.
allergy advice:
Gluten free, vegetarian

Allergy alert: contains nut & milk protein