Glutano Break Bar, chocolate covered four finger wafer bar
Added on 26 May, 2005

.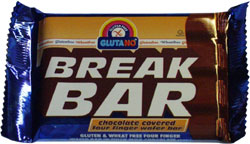 Having been eager Kit Kat eaters many years ago the wheat free members of our testing panel were quite keen to review this one for the benefit of other ex-Kit Kat eaters. Glutano make three versions, the Break Bar (four finger bar), the Break Bar Orange (four finger bar), and the Big Break Bar (chunky version). We tested the Break Bar.
The bar comes in a nice, easy to open wrapper. The chocolate coating is milk chocolate, with four fingers joined together. Snapping the individual fingers off the bar didn't have that crisp snap that we used to associate with Kit Kat, the chocolate was a bit soggy sounding when it broke, and often didn't break cleanly, so that some people got a bit of someone elses finger chocolate, which nearly caused a riot.
Biting into the finger we found the wafer a little on the soft side, we would have preferred it to be a bit crisper. We also would have like the chocolate to have been a bit thicker, it felt a bit mean as it wasn't very thick, despite the wrapper proclaiming "thick milk chocolate".
The taste was pleasant and the chocolate and wafer did have a nice texture when chewing. However we would have preferred a slightly richer, milkier chocolate flavour from the coating.
We also chilled a bar to compare against the room temperature version. We found that chilling improved the texture of the bar, and our testers though that it was definitely the best way to eat it after being slightly chilled in the refrigerator.
Overall, all our testers thought that it was a good alternative to Kit Kat, and certainly a nice change from traditional 'safe' chocolate bars. We do however think that the price is too expensive for a bar of just four fingers. Making it a bar that we wouldn't buy everyday to go with our mid-morning cup of tea.
Our testing panel is made up of people with wheat allergies and also people who can eat wheat as part of their normal diet.
nutritional information:
Typical values per bar (4 fingers):
Energy - 244 kcal
Protein - 3g
Carbohydrate (total) - 27g
Carbohydrate (sugars) - 19g
Fat (total) - 14g
Fat (saturated) - 8g
Fibre - 1g
Sodium - 35mg
Cholesterol - 7mg
allergy advice:
Wheat free
Gluten free
Contains: milk, eggs & soya May contain: traces of nuts