Fire Dancer Jalapeño Seasoned Peanuts
Added on 24 Dec, 2005

.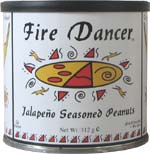 Our eyes were drawn to the fabulous packaging of these nuts, and when we saw that they were marked gluten free we just had to try them.
To save you from reading all the tedious review below here's all that you need to know: These are quite simply the best nuts we have ever tasted.
When we opened the tub the smell was very appetising, and our taste buds started tingling immediately in anticipation. Having not tasted jalapeño seasoned nuts before we weren't sure of just how they were going to taste, but as lovers of jalapeño's we were hoping for something with a real kick.
We were not disappointed. The first mouthful tasted slightly different to normal peanuts, but when we crunched them up the flavour really hit our tastebuds. The first expression our tasters used was "WOW", then "fantastic", then "give me more". The jalapeño seasoning really did come through, it bounced off your tongue and kicked hell out of your tonsils on the way down.
The nuts were also very crunchy and not like some of the salted roasted nuts that seem to have a slight softness. These nuts went crunch for every mouthful all the way to the bottom of the tub.
The biggest problem we found with these nuts was that they were just too moreish, we couldn't stop eating them, and when the tub was empty we wanted more. These nuts have won 'Best Snack Nut in the USA', and after tasting them we can see why.
Our testing panel is made up of people with wheat allergies and also people who can eat wheat as part of their normal diet.
nutritional information:
Typical values per 28g (1 oz) serving:
Energy - 160 kcal
Protein - 7g
Carbohydrate (total) - 7g
Carbohydrate (sugars) - 1g
Carbohydrate (fibre) - 2g
Fat (total) - 13g
Fat (saturates) - 2g
Fat (trans) - 0g
Cholesterol - 0g
Sodium - 220mg
allergy advice:
Wheat & gluten free, soy free

Allergy alert: contains nuts, manufactured on equipment that processes peanuts and tree nuts