Dietary Specials wheat free and gluten free croissant
Added on 17 Jan, 2004

.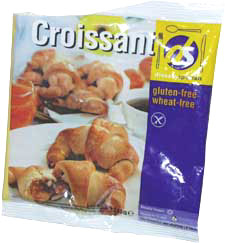 The wheat free kitchen followed the cooking instructions shown on the rear of the bag.
While cooking the smell was quite appetising, and on completion of cooking (only 10 minutes) they were removed from the oven. Our first reaction was "Oh, they haven't puffed up at all." The wheat free kitchen was expecting to have nice light and puffy croissant fresh from the oven.
Once our initial disappointment on size was over, they did look very tempting, so we rapidly moved on to taste.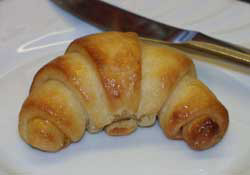 The texture was crisp on the outside, and soft on the inside. Our testers thought that they had more of the texture of a danish pastry than a traditional croissant. The apricot jam in the centre was reasonably subtle, and without this filling we thought that they could be a bit 'doughy' tasting.
Overall the testers thought that they were a nice change and the bag of 4 was rapidly empty.