Sainsbury's
Added on 11 Jan, 2005

.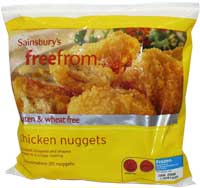 The wheat free kitchen followed the cooking instructions shown on the back of the packet for oven cooking.
When we opened the bag the nuggets looked very authentic, in fact just like wheat containing versions. We placed them on a baking sheet lined with baking paper and cooked for the recommended time.
The smell during cooking was very appetising and when they were removed from the oven fully cooked they were crispy and golden looking.
On tasting, the crumb coating was indeed very crisp and crunchy, and had a very good rich taste. The chicken however was disappointing, it had a spongy look and texture, and was we think indicative that the chicken was reformed meat rather than genuine pieces of chicken, the second ingredient on the packaging being water. Our testers thought that the spongy texture wasn't very impressive when compared with natural chicken.
We think that the price is probably a bit steep for the chicken quality used and the number of nuggets in the packet, approximately 20. So this did affect our rating marks slightly.
Overall the wheat free kitchen thought that the taste, and crispy coating were good, but questioned the meat quality. However we thought that for the occasional treat they were not bad, but wouldn't want to see them served up everyday, especially to children as they do have a slightly addictive effect on the tastebuds, and are higher in fat than we would like to see.
However all that said, for finger food at a party we think they are ideal, and if you have kids that do have a wheat or gluten allergy it can be very difficult to satisfy their dietary whims all the time, so these will ensure that they don't miss out on a vital (to kids) treat when their wheat eating friends are eating chicken nuggets.
Our testing panel is made up of people with wheat allergies and also people who can eat wheat as part of their normal diet.
nutritional information:
Typical values per 100g of product:
Energy - 251 kcal
Protein - 13.4g
Carbohydrate (total) - 19.7g
Carbohydrate (sugars) - 0.4g
Carbohydrate (starch) - 19.2g
Fat (total) - 13.2g
Fat (saturated) - 2.3g
Fat (mono-unsaturated) - 7.70g
Fat (polyunsaturated) - 2.0g
Fat (trans fatty acids) - 1.0g
Fibre - 0.8g
Sodium - 0.6g
Typical values per serving (4 nuggets):
Calories 187
Fat 9.83g
allergy advice:
Wheat free
Gluten free
Dairy free
Contains: egg & soya
Not suitable for nut allergy sufferers