Allergycare Gluten Free Herb & Onion Stuffing Mix
Added on 08 Nov, 2005

.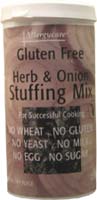 We thought that with the festive season rapidly approaching we should try a wheat & gluten free replacement for the traditional accompaniment to your Christmas lunch or dinner, stuffing.
On opening the tub it smelt just like traditional stuffing, but to be honest it looked like something swept up off the floor. The contents appeared to have settled so the finer ingredients were at the bottom of the tub. This was soon remedied by giving the tub a good shake (with the lid firmly on). This mixed it up more thoroughly so that we could spoon out a good sample to make up into the stuffing.
We followed the instructions on the back of the tub for making the stuffing, with the exception of adding any further seasoning which we didn't think it needed. Then we baked it as suggested for 30 minutes.
On removing from the oven it smelt very appetising, and looked okay. We were disappointed however that it didn't seem to have gelled together like traditional stuffing does, it remained flakey, though this didn't detract from it's overall smell and taste. On tasting the stuffing we were really pleased with the flavour, and both wheat free and wheat eating people liked the taste. The general consensus was that the texture was quite good when eaten, although we would have liked it to have been a bit richer.
To try to get a little closer to traditional stuffing texture we tried a slight variation to add a bit more moistness into it by adding a knob of butter (vegans or non-dairy eating people could add a knob of Pure or other vegan/non-dairy fat substitute). This gave the stuffing a slightly richer feel, taste and texture.
Overall the panel liked the stuffing and thought that it made a very good wheat & gluten free stuffing substitute for Christmas lunch or dinner accompaniment. It can also be used to thicken soups and stews, so is more versatile than just for Christmas day. We did however think that adding the butter to the mix before cooking vastly improved the texture of the stuffing, and we would continue to do this rather than follow the instructions exactly.
Our testing panel is made up of people with wheat allergies and also people who can eat wheat as part of their normal diet.
nutritional information:
Typical values per 100g:
Energy - 360kcal
Protein - 7.9g
Carbohydrate - 76.8g
Fat - 2.4g
Fat (saturates) - 0g
allergy advice:
Wheat, gluten, yeast, milk, egg, sugar, colourant & preservative free
Suitable for vegetarians & vegans