Nairn's wheat free oat biscuits and oat cakes
Added on 13 Sep, 2004

.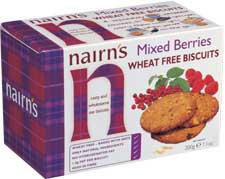 Patrick Holford says

"the low GI of nairn's oatcakes...make them an ideal food for following the Holford Diet and losing weight"

These biscuits have enormous 'shelf' appeal. The boxes look good among the other packets of ordinary biscuits, and make you want to pick them up and have a closer look. We did, and we can report that what's inside the boxes is just as tasty as the look of the packaging.
A great bonus on opening the box was that each box is split into four separate packets of biscuits or oat cakes. Absolutely great for packed lunches or a snack on the move. There are several different types and flavours:

wheat free oat biscuits
Fruit and Spice
Mixed Berries
Stem Ginger
wheat free oat cakes
Cheese
Fine milled
Mini
Organic
Rough milled
note: the Savoury selection contain wheat so should be avoided.
Getting down to actually tasting we were really impressed. The biscuits and oat cakes had the satisfying crunch to them that often seems to be missing from wheat free biscuits. And the taste... the 'fruit and spice' reminded us of winter warming with mulled wine, and the 'stem ginger' had just enough zing for ginger lovers. The 'mixed berries' were nice and fruity.
Of the oat cakes selection our favourite was the cheese variety, and were certainly tasty enough to be eaten on their own with no accompaniment at all.
Overall our testers thought that Nairn's selection of wheat free oat biscuits and oat cakes were great. We especially liked the fact that they are made with natural ingredients, and no hydrogenated fat. The price is not too high, and from a nutrition point of view we don't think that they break the calorie or fat bank.
Our testing panel is made up of people with wheat allergies
and also people who can eat wheat as part of their normal
diet.
nairn's press releases:
nairn's oat cakes — the ideal Holford Diet food (11/04) [PDF - 93k]
read...
Britain's biggest health survey points the finger at wheat (10/04) [PDF - 74k]
read...
nairn's oat cakes nutrition data and stockists [PDF - 642k]
read...
At last! A wheat-free biscuit that tastes naturally good (05/04) [PDF - 64k]
read...
Compare our biscuits [PDF - 54k]
read...
nairn's oat cakes keep you feeling fuller for longer (03/04) [PDF - 72k]
read...