Lupin flour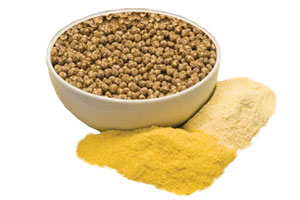 Lupin flour is made from the legume of the sweet lupin, and is therefore related to other legumes such as peanuts and soybeans. The European white lupin has been eaten as a food by humans dating back to the ancient Egyptians, but use of the sweet lupin is relatively recent.
Lupin flour is high in protein, essential amino acids and fibre, is easily digestible, low GI, cholesterol free, an appetite suppressant, and wheat/gluten free.
Usage:
Lupin flour can be used in gluten free baking, and like most gluten free flour alternatives, is best blended with other flours. However it does come with an allergy caution as it is from the same legume family as peanuts and soybeans. Anyone with an allergy to peanuts, legumes or soybeans should avoid eating lupin flour.
The FDA has issued an allergy warning about lupin flour for people with peanut or legume allergies:
FDA lupin flour warning
For more information about lupin flour, including recipes, see the PDF links at the bottom of the page.
Storing:
Like many alternative flours, lupin flour is best stored in an airtight container in the fridge, or in the freezer. If refrigeration or freezing is not available, then store in a cool, dark cupboard, and use within its use by date.
Alternative names/types:
Sweet lupin sprouts
Sweet lupin milk
Sweet lupin beans
Lupini beans
Lupine
Where to buy:
Appears to be readily available in Australia, however, for many other countries buying online is probably the easiest option.
Nutritional information:
Typical values per 30g (1/4 cup) of product (Lopino lupin flour)
Energy - 74 calories
Protein - 12g
Carbohydrate (total) - 1g
Carbohydrate (sugars) - 1g
Fat (total) - 2g
Fat (saturated) - 0g
Fat (trans) - 0g
Dietary fibre - 11g
Sources:
Information provided by Irwin Valley Lupin Flour
Lupin Flour Brochure - Gluten Free.pdf(includes some gluten free recipes)
Australian Sweet Lupin Flour Brochure 9 December.pdf
Lupin Flour Health Report V 1.pdf
The FDA allergy warning about lupin flour for people with peanut or legume allergies:
FDA lupin flour warning