Grilled trout with horseradish recipe
"There's nothing better than fresh trout for dinner—especially if you caught it yourself"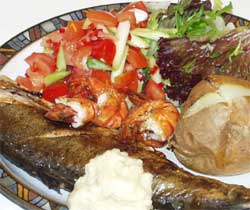 Allergy Information
| | |
| --- | --- |
| Wheat-Free | |
| Gluten-Free | |
| Nut-Free | |
| Dairy-Free | |
| Sugar-Free | |
| Vegetarian | |
| Vegan | |
There's nothing better than fresh trout for dinner, and this is also a great meal for the barbeque. One of my neighbours in the UK was an avid fisherman, but he hated eating fish, so he'd regularly turn up on the doorstep with a bag of trout freshly caught that day. This is definitely the best way to eat trout that was only landed a few hours earlier.
It can be quite challenging to find gluten free horseradish sauce, but if you can't the trout will still taste great without it.
Ingredients
2
[

2

]
trout, cleaned and washed
8-10
[

8-10

]
raw tiger prawns, shell on
1 tbsp
[

1 tbsp

]
olive oil
1 tbsp
[

1 tbsp

]
balsamic vinegar
gluten free horseradish sauce
freshly ground black pepper
Directions
Dry the cleaned (gutted) trout thoroughly, then slash the sides with a sharp knife. I also like to remove the heads too; seeing them looking at me as I'm eating is just too creepy.
Mix the olive oil, balsamic vinegar and freshly ground black pepper in a small bowl, brush this mixture over the trout, making sure to work plenty into the slashes each side.
Grill the trout under a medium grill for 8-10 mins or to personal preference. Turn the trout over and brush again with the oil mixture, again grill until cooked.
While the second side of the trout is cooking, dip the raw tiger prawns in the remaining oil and vinegar mix. Heat a griddle pan and when hot, place the raw prawns on the griddle and cook until they begin to turn pink. Before turning over the prawns, again brush with the oil mixture, then turn over and cook until they are completely pink.
Put the cooked trout on a warm plate, garnish with the griddled prawns and a large spoonful of horseradish sauce.
Serve with fresh chunky tomato salsa, green salad and a jacket potato.