Divine Macaroons recipe
"If you like coconut you'll love these... moist, flavourful, and very easy to make"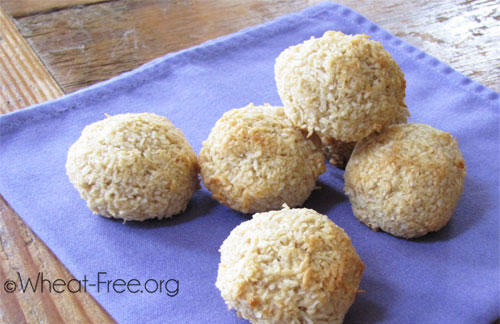 Allergy Information
| | |
| --- | --- |
| Wheat-Free | |
| Gluten-Free | |
| Nut-Free | |
| Dairy-Free | |
| Sugar-Free | |
| Vegetarian | |
| Vegan | |
Preparation time:

13 mins

Cook time:

30 mins

Total time:

43 mins

Yield:

makes 16 small
This Divine Macaroons recipe is reproduced with kind permission from Jo Stepaniak, author of Gluten-Free Tips and Tricks for Vegans: All the Fab Food You Thought You Couldn't Eat . If you like the sound of this book check out the book review too .
These Divine Macaroons are aptly named and I really liked them, as did my very willing recipe guinea pigs—none of whom are actually wheat free, gluten free, dairy free, or vegan, but do all have a sweet tooth.
These macaroons were incredibly easy to make, and for lovers of coconut they were a perfect small sweet treat full of flavour. Keeping them in an airtight container in the fridge kept them moist for several days—Jo recommends storing them at room temperature but we were experiencing a heat wave at the time. The next batch are going to be chocolate drizzled too.
Ingredients (Measures: Metric | US)
[

2 1⁄2 cups

]
unsweetened shredded dried coconut
[

1⁄2 cup

]
GF All-Purpose Flour Mix (page 36 of the book) or other gluten free all-purpose flour (Pamela's All-Purpose Artisan Blend works well)
[

1⁄2 cup

]
pure maple syrup
[

1 tsp

]
gluten-free almond, orange, lemon, coconut, or vanilla extract (
wheat-free.org note: avoid almond extract if nut free is required
)
Directions
Preheat oven: 325°F. Line a baking sheet with parchment paper or a silicone baking mat.
Put the coconut, flour mix, xanthan gum, and salt in a large bowl and whisk to combine. Put the water, maple syrup, and almond extract in a small bowl and stir to combine. Pour into the dry ingredients and stir until evenly blended.
Using moistened fingers, form into 1 1/2-inch balls, pressing the mixture together firmly. Put the balls on the lined baking sheet as they are formed. Bake on the center rack of the oven for 30 to 35 minutes, until golden brown. Let cool completely before serving.
Chocolate-topped macaroons: Melt 1/2 cup of chopped gluten-free dark chocolate in a double boiler or microwave. Drizzle over the cooled macaroons.
Stored in a tightly sealed tin at room temperature, these cookies will retain their moist, chewy texture for a week.
Per macaroon: 168 calories, 1g protein, 11g fat (10g sat), 4g carbs, 35mg sodium, 8mg calcium, 3g fiber