Banana bread recipe
"Moist, very tasty and perfect for packups, picnics and sports refuelling"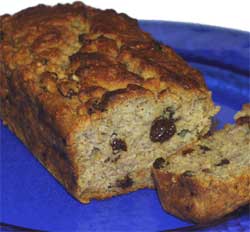 Allergy Information
| | |
| --- | --- |
| Wheat-Free | |
| Gluten-Free | |
| Nut-Free | |
| Dairy-Free | |
| Sugar-Free | |
| Vegetarian | |
| Vegan | |
Preparation time:

10 mins

Cook time:

1 hr

Total time:

1 hr 10 mins

Yield:

makes 1 loaf
I love bananas in the wheat-free kitchen, in fact I should probably have shares in a banana plantation. Sadly though, for 2 months every year I have to give up bananas for mosquito season—otherwise I seem to be a bloodsuckers snack every time I put my head out of the door. Eating bananas is purported to increase your chances of being bitten by a mosquito, and I've definitely found that to be the case.
Apart from being mosquito attractants, bananas have great nutrition properties, low in fat, cholesterol, and sodium they are also a good source of dietary fibre, vitamin C, potassium, copper, magnesium, manganese, and vitamin B6. And did you know that if you're having trouble sleeping eating a banana before you go to bed will help you get a restful slumber?
If you're keen on cycling, running, or other sports where you need fuelling on the go then this banana bread makes a great alternative to sugary sports bars. It's firm enough to stay together, so wrap a piece in waxed paper and stick it in your pocket or backpack, you'll love the moist, energy rich goodness that it provides.
Ingredients (Measures: Metric | US)
60g
[

scant 1⁄2 cup

]
brown rice flour
60g
[

slightly rounded 1⁄3 cup

]
gluten free flour
60g
[

¼ cup

]
butter, margarine or low fat spread
1 1⁄4 tsp
[

1 1⁄4 tsp

]
baking powder
1⁄2 tsp
[

1⁄2 tsp

]
ground mixed spice (substitute: allspice) [check ingredients for purity before using, some contain wheat for anti-clumping]
250g
[

1 cup

]
bananas, peeled and mashed
1⁄2 tbsp
[

1⁄2 tbsp

]
clear/runny honey (substitute: agave syrup)
Directions

Preheat oven: 180°C, 350°F, Gas 4
Line a 1lb loaf tin with baking parchment.
Mix the flours, butter, baking powder and mixed spice until mixture resembles breadcrumbs.
Stir in raisins.
Mash bananas with the egg and honey, then pour onto the dry ingredients and mix thoroughly.
Pour into loaf tin and bake on the middle shelf of the oven for 55-60 mins. To check if cooked, insert a wooden toothpick into the centre, if it comes out clean or just barely moist the banana bread is cooked.
Remove from oven and allow to cool slightly in the tin before turning out onto a cooling rack.

It's easier to slice if you leave it to cool fully, however warm banana bread is awesome, so don't let that stop you from tucking in while it's still warm and fragrant.

It also freezes really well, wrap individual slices in waxed paper or parchment paper and store in an airtight box. To defrost unwrap and leave until soft, or put in the microwave on the defrost cycle for a few seconds.