Polenta in spicy tomato sauce recipe
"Don't write off polenta as boring until you've tried this recipe"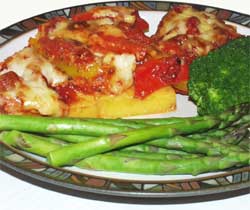 Allergy Information
| | |
| --- | --- |
| Wheat-Free | |
| Gluten-Free | |
| Nut-Free | |
| Dairy-Free | |
| Sugar-Free | |
| Vegetarian | |
| Vegan | |
Preparation time:

8 hrs

Cook time:

30 mins

Total time:

8 hrs 30 mins

Yield:

serves 2-3
Polenta tends to be a bland, uninteresting grain unless you flavour it, this recipe adds some spicy tomato sauce, cheese and veggies and makes it a tasty brunch, light lunch or dinner item.
Ingredients (Measures: Metric | US)
or if not available you can use the traditional slow cook type)
[

120g

]
polenta grains (quick cook variety
olive oil for brushing baking dish
400g
[

400g

]
tin chopped tomatoes
1 tbsp
[

1 tbsp

]
tomato puree
2-3 dashes
[

2-3 dashes

]
tabasco sauce
1
[

1

]
red chilli, finely chopped
1⁄2
[

1⁄2

]
red pepper, sliced
1⁄2
[

1⁄2

]
yellow pepper, sliced
75g
[

75g

]
goats cheddar, grated (or any other strong tasting cheese)
Directions
Preheat oven: 200°C, 400°F, Gas 6
Make up the polenta following the packet instructions for 'firm' polenta. Spread evenly in a shallow baking tray lined with baking parchment and allow to cool for at least 8 hours, until very firm.
Remove polenta from tray and cut into shapes, i.e. squares approx 5cm square, or circles. Lightly oil an ovenproof dish on the base with the olive oil, then arrange the polenta shapes in the dish.
In a small saucepan put the chopped tomatoes, tomato puree, tobasco and chilli and bring to the boil, then allow to simmer until the mixture reduces and thickens a little.
Spread the sliced peppers on top of the polenta then cover the entire contents of the dish with the tomato sauce.
Sprinkle the grated cheese over the tomato sauce, and then bake in the oven for 25 mins.
This can be served with lightly steamed vegetables, green salad or cold as a buffet or picnic snack. To make an even quicker meal, use ready made polenta, just slice it and top with the peppers and a ready made wheat free spicy tomato sauce, finally the cheese.