Pizza crust recipe
"Crisp, no flop, thin crust pizza"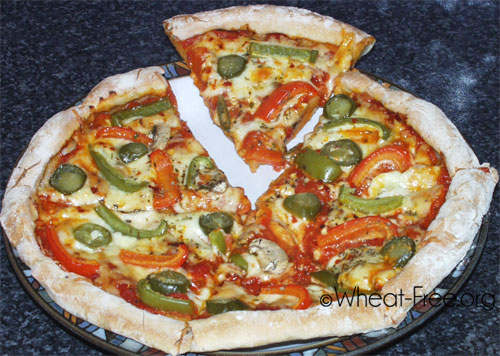 Allergy Information
| | |
| --- | --- |
| Wheat-Free | |
| Gluten-Free | |
| Nut-Free | |
| Dairy-Free | |
| Vegetarian | |
| Vegan | |
Yield:

makes one 12" thin crust pizza
Almost everyone who can't eat wheat or gluten misses good bread and good pizza crust. Well this is REALLY good pizza crust. Hate those floppy pizzas that you can't pick up and eat with your hands? This pizza crust is crisp and firm, no floppy pizza here!
It's marked as not being vegan, but by topping it with a non-dairy version of cheese and making sure that you use vegetarian gelatine it's then suitable for vegans too.
Ingredients
7g
[

7g

]
dried yeast (make sure gluten free version)
1 tsp
[

1 tsp

]
agar powder
or agar flakes crushed to powder
1 tsp
[

1 tsp

]
dried oregano (optional)
Directions
Preheat oven: 200°C, 400°F, Gas 6
In a mixing bowl combine the rice flour, tapioca flour, yeast, xanthan gun, agar, salt and optional oregano.
In a separate bowl mix the olive oil, vinegar and warm water.
Make a well in the centre of the dry ingredients and add the wet mixture. Beat well for 5 - 6 minutes by hand, or for 3 minutes in a food mixer. The dough should be soft and slightly sticky.
Line a baking sheet with baking parchment, or lightly oil and flour. Put the dough on the baking sheet and using your hands knead the dough into a circular shape. Sprinkling with flour to stop sticking. Make the edges slightly thicker to retain the filling.
Bake the pizza base for 10 minutes.
For the tomato sauce we used plain crushed tomatoes for quickness, however you can make a tomato sauce to suit your taste, or use a store bought version. Then top with grated cheese, chopped veggies, jalepenos, herbs etc.
Put back into the oven for 25 minutes, until golden brown and base is crispy.
In case you're wondering why no sugar is used to activate the yeast, it's not needed. The yeast will work perfectly okay without using sugar.
This pizza is delicious either hot or cold and family members or guests will not notice the difference. Why not make small pizzas to serve as a great buffet food, or little snacks for the kids.
comments powered by

Disqus